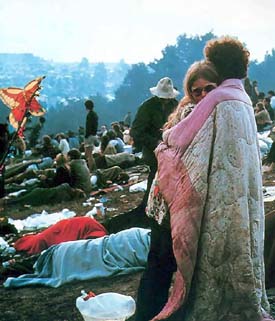 "Free love is groovy again..."
Used to be that one of most effective ways to sell books was to hop in the car (or on a train, or a plane) and travel from one bookstore to the next, peddling your latest opus to whoever might take a chance on you and buy it. You began in your hometown, selling mostly to friends and family, and then you branched out to the surrounding communities and eventually the big cities.
If your book sales were growing steadily while you were "on tour" and if some pretty good (or even bad) reviews were being published at the same time, you might find yourself in the enviable position of having ten or twelve potential readers attending each of your signings on average. More often than not however, you might find yourself standing in an empty store to a befuddled bookstore owner who would swear, "Jeeze, I advertised in all the major papers. I can't imagine what happened." Then he or she will cut into your soul with a laser beamed gaze of disappointment so profound, it will leave you breathless and having to bend over in order to assume the full, hard, beefy responsibility of the no show.
"It's you fault no one showed, Chief. Your books suck!"
Ok, maybe I'm exaggerating a little here. But we all know how much I love book sigings. Not!
Well, I might like them if they were a cost effective way of selling a lot of books to my target audience. But then, you can't expect my target audience to gather in a single spot on a single day.
Or can you?
I just spent the past couple of weekends not with a half dozen potential Vincent Zandri readers, but tens of thousands of them. We all gathered in the same place, on the same days, at the same times, not in a gigantic bookstore, but in an online setting. As opposed to asking these peeps to buy my books as I would during a traditional book signing, my publisher decided to give them away for free. In what is now being coined as "generosity marketing," I was able to reach out to thousands of would-be fans, and in turn, perhaps they will read my work and be willing to spend some money on a few of my books that are not free, but reasonably priced.
The strategy worked. Unlike the traditional book signing in which you might be lucky to connect with a few people, I was able to connect with people from around the globe in a single online setting. When the freebie special was over, my novel,
The Innocent
, made it's third rise into the top 800 for overall Amazon Kindles in a year and a half (in March/April 2011 it occupied the Top 10 for 16 weeks). It's currently somewhere around the 800 range at four bucks. No book signing on earth could have produced those results.
The world of publishing and book selling is changing. Writers are in the business of producing great books. Publishers are in the business of getting those books out to readers as efficiently as possible. In today's digitally based marketplace, peddling your books from store to store is not only unnecessary, it can be construed as an expensive exercise in futility. Instead, offer up a freebie special. You can do it right from your own bedroom, or from cafe in Paris. You don't have to worry about no shows. The whole world will show up to join you. And what's amazing is that there's plenty of room for everyone.
Click here to grab a copy of the No. 1 Bestselling Mystery:
THE INNOCENT