The book that launched the career in 1999
...or I might have called this post, 20 years of huge highs and some pretty deep lows. Sounds like life in general doesn't it? But it's true, it wasn't precisely 20 years ago today, that I started to play with the big boys and girls in New York City, but close enough. My first big novel, As Catch Can (now The Innocent: A Jack "Keeper" Marconi PI Thriller ), was published by Delacorte mostly to a lot of yawns but to stellar reviews in the Boston Herald, The New York Post, Publishers Weekly, and many others. It was a tumultuous time to say the least with Slick Willy doing the deed in the White House with his young intern (an intern I would later meet while on a train from NYC to Albany). The Internet was new and still in dial-up mode, and I was only 34 years old and a relative pup in this business. They gave me $250K or thereabouts so I partied like a rock star, got divorced, and lost it all. Every penny and then some. I don't regret a minute of that time. It was magical (Catch the original
Times Union
article about the deal).
But it also served as a maturing experience, since the years that followed were not exactly easy. It wasn't until 2007 that I was able to buy back the rights to not only As Catch Can, but also its follow up, Godchild. The books were republished in 2011, with As Catch Can becoming The Innocent, and along with the help of a new digital eReader device called The Kindle, their combined sales reached about 150,000 units in six week's time. The Innocent stood its ground in the Amazon Overall Bestseller List at Number 2 for a few weeks, it's only barrier, The Lincoln Lawyer which was a major motion picture at the time. The books were then resold to Thomas & Mercer and that's where they remain today.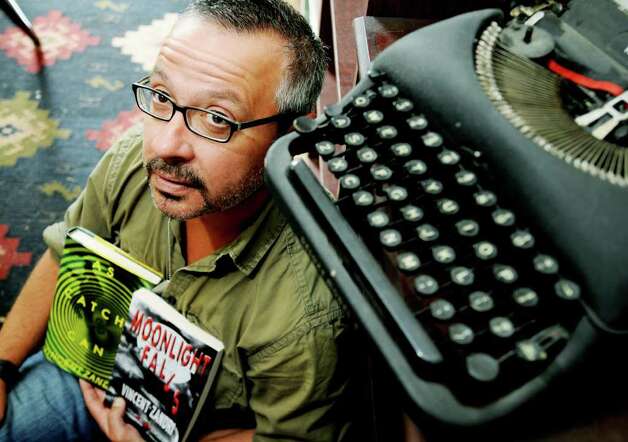 Then came The Remains, which went gangbusters, and it too was picked up by Thomas & Mercer, and then came other deals with publishers like Polis Books and Down & Out Books. I'd win the Thriller Award for Best Paperback Original for Moonlight Weeps in 2015. That book would also win the Shamus Award for Best Original Paperback from the Private Eye Writers of America. Then came major articles in the New York Times, Business Insider, Publishers Weekly, Suspense Magazine, and appearances on the Fox News Network and Bloomberg Business TV. I hit the major bestseller lists and since 2010 have sold close to 1 mil editions of my books and novellas (I'm pretty damn close if you include the Kindle First promo for Everything Burns for which I received a sweet payout).
"Catch" is now The Innocent
At this point, I estimate I've written and published around 50 novels and novellas with an equal number in print in one form or another. This doesn't count short stories nor the anthologies I'm included in. None of these numbers take into account the freelance journalism I continued to produce almost daily up until three years ago, nor the blogs for the Vox. To say these past 20 years have blown rapidly past is a like saying the sun is hot.
In between the books, came the marriages and relationships, the the solo travel to some pretty hairy places, the raising of the kids, the death of my father, the radical shift to independent publishing and hybrid publishing, and much more importantly, the freedom for writers like me who write many books per year in several genres, to make an excellent living without having to bend over for an agent or any one publisher.
I recall 20 years ago when my first book was published and I also recall thinking how utterly messed up the system was. But that's all changed now, and even if there is a perception that the market is being flooded with sub-par books, it's all for the better. Talent will always prevail in this business, and while hard work is not always rewarded when it comes to the arts, the harder you work, the better your luck will be and the greater your chances of succeeding.
So what's in store for the next 20? My aim is to publish 100 novels and novellas over the course of the next 5-7 years. I also plan on selling several stories to television and perhaps a major motion picture. I've come damn close to both so my guess is, if I keep on jabbing, I'll eventually land something. I'd also like to see a series or two developed as video games. With more and more smartphones being purchased every year and all of those devices containing Kindle, eReader, video game, and YouTube apps, the skies the limit. My only regret is my life is going by too fast to realize all my goals. But then, I think that's an indication of how much fun I've been having.
20 Years...When I was playing drums for The Blisterz, we sang a song called 20 Years. It was about a man who is still stuck at his job after 20 years of backbreaking service. I'm still stuck at my job and thanks to my fans, I'm loving every minute of it.
WWW.VINCENTZANDRI.COM
Visit my wesbite to PRE-ORDER two major new novels!!!!