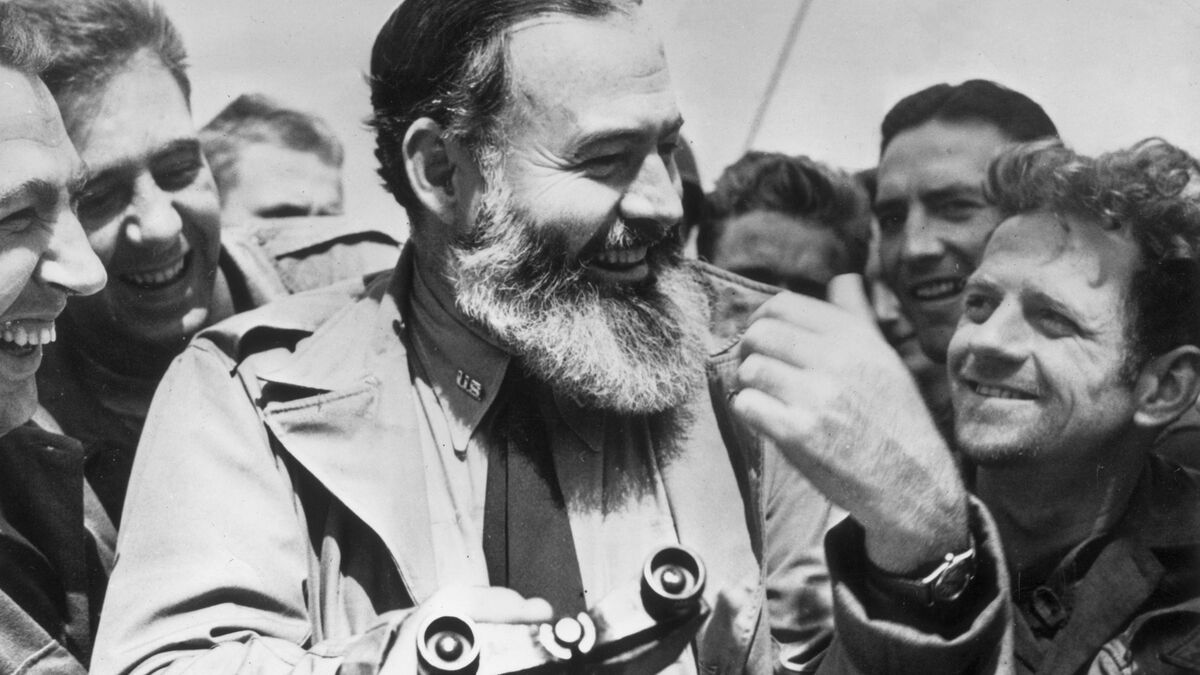 Papa defends freedom with a pen and gin in his canteen.
Couple observations.
First, Bloobmberg reports today that Hemingway's 1964 posthumously published memoir about Paris is flying off both the digital and paper shelves in France, particularly Paris. Amazing the support for Papa's romantic vision of the City of Lights as
A Movable Feast
all these years later during such complicated and dangerous times. A time in which, like during WWII, the Russians are allying with France to eradicate a common enemy as murderous if not worse than Hitler's Nazis.
According to Bloomberg, the renewed interest in the great work is a "show of defiance" against the recent Radical Islamist terror attacks and Radical Islam in general which would do anything possible to eliminate a way of life for drinkers, writers, poets, artists and more. Let's face it, the bastards would make a mosque out of the Deux Magot.
Papa would love the renewed interest in the wake of this new war of freedom vs. terror. Speaking of another time in history he famously stated, "Fascism is a lie told by bullies." No writer can truly write under Fascist law. Same goes for Sharia Law, as well as the Political Correctness which has afflicted the USA and been perpetuated so dangerously by Barack Obama and his mainstream media minions.
So Papa would be proud.
One wonders however, what he might have thought (off the record, of course) of the present POTUS. My guess is he would have smiled, shrugged his shoulders, and said, "You get what you goddamned pay for, pal." He then would have belly laughed and poured another glass of vino rosso (or rouge). "Don't take life so seriously," he would have said, slapping me on the back. "You never know when that old whore death is gonna come knocking at your door."
In other matters, today, I came face to face with a group of Muslim young men freshly transplanted from their home territory. I stood in line at the grocery store with them. They seemed giddy and relieved to have made it this far. They had a leader with them. A fixer. A man who was about my age, and who was coaching them on what to buy and how to buy it (no pork products). They spoke in their native tongue, and looked healthy and fit and not to badly attired with nice watches and jeans. The leader, who spoke very little English and zero Italian, was confused when the cashier wanted to know if he wanted a plastic bag with which to carry his purchases. He just looked at her like she had two heads. I reached out, grabbed the plastic bag, and gave it to him. He smiled. I wondered if these transplants had wives and children waiting for them somewhere. But there was nothing in their food and supply purchases that would have indicated as such. No baby cereal or diapers. Just stuff a grown young man might want to eat and utilize. And certainly no booze.
Syrian refugees come up from the south?
Almost certainly.
But the refugee part might be misleading. More like young men fleeing a civil war in which they would have to choose between one of two evil sides. I could only hope their intentions were benign. But I can only wonder considering the recent events in Paris. Vigilance is key here. This world war is only just getting started.
Oh, and by the way, the fixer attached to the young transplants paid with a Mastercard.
Go figure...
UPDATE 11/20:
As of this morning, the US State Department warns American travelers that Florence's "Duomo Cathedral" and Rome's Vatican are now listed as viable ISIS targets based on recent intelligence reports. Italian military and police have now ramped up security accordingly.
WWW.VINCENTZANDRI.COM