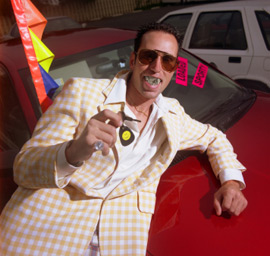 "Baby, have we got a deal for you!"
It's been a few months since just about every indie author blog had something written inside it about the power of pricing. The gist of the chatter centered around $.99 being the optimum price, and authors like John Locke and Amanda Hocking were proving beyond the shadow of a doubt that books priced that low can really move. Move in mass quantities that have the potential to add up in the end to a pretty decent payday (and to book deals from major pubs!).
I had a two books priced at $.99 back in February, March, and April and while both of those hit the Amazon Top 25, one of them
THE INNOCENT
hit the Top 10, settling at No. 3 for nearly a couple of months. Even with paying a standard agent percentage, I still took in payday that averaged three times your normal NYC legacy publisher advance. In May my guys at StoneHouse/StoneGate Ink decided to up the prices back to more normal levels and the books naturally lost ground in terms of ranking but continued to sell very well while remaining bestsellers.
Now it's August, a traditionally slow month for publishing while everyone takes in vacation and gets ready for the upcoming school year or whatever. Sales are good, but I'm convinced they could be great again.
I'm still convinced the three major attractors to making your E-Books bestsellers are...
1. An Awesome Cover
2. A Great Product Description
3. Price, Price, Price
(4.) Great Writing
(5). Direct Marketing from online publishers like B&N and Amazon...
That said, my cats at StoneHouse/StoneGate Ink have decided to run a special on
CONCRETE PEARL
, my new thriller (the first in a series) starring brassy and beautiful commercial construction business owner/amateur sleuth, Ava "Spike" Harrison, and
THE REMAINS
,
my stand-alone thriller that's been a bestseller for 15 months. Both books will be published at $.99 for at least the length of the CONCRETE PEARL
virtual tour
which is scheduled for September.
Having been blessed with a great 3/4s of 2011, I also want to issue this challenge to myself: if one of the books breaks the Top 100, I'm going to donate $500 to the
Boston Children's Hospital
which does great things for kid with all sorts of injuries, ailments, and dreadful diseases. From cancer to cutting edge operations that can make a once useless limb useful again, as was the case with my son Harrison (Bear) who suffers from brachial plexus palsy, the BCH is a Godsend to kids and their parents. It's a curing place and an emotional place and I encourage all of you to take a look at their website. We've spent a lot of time at BCH where Harrison has undergone two major surgeries to repair his left arm, the most recent being last July. If both books hit the top 100, I will donate $1,000 to the hospital.
So, like Paul Weller of the JAM once sang, "What you give is what you get!" I couldn't agree more, other than to say, better to give than receive.
Ciao, Ciao for now, from sunny Italy!!!